West London
Reasons to hire West London Cleaners
Cleaning can be a chore and not everyone enjoys it, so when life is busy with work and family commitments why not save time and hire a professional company to help? Ruby Cleaners are the best in the area, and will do a detailed clean of your home or work place. Dusting and vacuuming may not be enough; your place most probably needs a thorough scrub from top to bottom with greater attention paid to specific rooms such as bathrooms and kitchens as well as those areas not on show like under the beds, wardrobe tops and light switches. Hire our spring cleaning experts, and you can have as much or as little of the cleaning done. Our team works to a high standard and provides an excellent service. You can arrange a one off cleaning service, which covers absolutely everything to a more regular cleaning appointment to keep everything looking neat and tidy. Call us now 020 3397 8395 and discuss your requests with our helpful and polite call centre. We can organise a cleaning deal to suit your budget and lifestyle. We have a huge choice of services on offer to suit both commercial and domestic needs.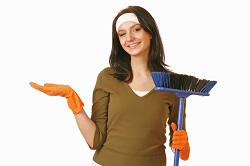 West London sits on the west of the River Thames and has a popuatlion of over 1.6 million. The area consists of Brent, Ealing, Hammersmith and Fulham, Harrow, Hillingdon and Hounslow. This area of London is one of the wealthier regions compared to other areas of the city, and has a reputation of being confident and proud. The area is famous for plenty of attractions and a popular spot that attracts thousands of visitors every day. The famous Wembley stadium can be found here and the areas well known for its football clubs, Brentford, Chelsea, Fulham and Queen's Park Rangers. West London is also home to the busiest airport in the U.K London Heathrow Airport, which is also one of the largest in the world. Hounslow is a working class area where the large majority of workers from the airport live. West London is popular with travelers mainly due to the location of the airport, and it wealth of attractions and facilities. It has good transport links that connect other parts of the famous capital city. There is a good choice of accommodation and also the opportunity to be close to smaller suburbs, towns and villages.


If you are finding it hard to fit in the cleaning, and need that extra special spring cleaning service call Ruby Cleaners now. We can help with as much of the cleaning as you want. You can book a regular weekly service or just a one off deep cleaning service that completely covers every intricate detail of your office or home. Nothing is too much for us; we have a team of trained workers who are organised and work hard. You may have decorated or done some renovations and require a meticulous deep clean then call us and arrange an appointment. Our teams of cleaners are competent, friendly and polite. Hire us and let us take the stress from your life. We have deals to suit all budgets, so call and enquire about what the prices cover. So don't waste time now and get some help, and call us on 020 3397 8395 to discuss your request. Our staff can arrange a time and date to suit you and your busy schedule. We pride ourselves on doing the best job so you will use us again and again. All of our cleaning services are fully insured and guaranteed, so you can rest assured that our cleaning will be done to a high standard.


Our Testimonials
Ruby Cleaners services came in handy by offering regularly high-quality cleaning services. Every task is done professionally to the very last detail.
Being the headquarters, our offices in required a consistent and reliable cleaning company. There was no room for compromise. A friend and former colleague told me about Ruby Cleaners, and I have to say that they are the best we have had so far.
The standard of cleaning and the level professionalism offered by this company in West London is what has made me stick around for this long. Could not get any better, thank you.
They arrived at my cabin in West London and immediately started to clean; there was so much to do, and I got afraid it will take forever to get the job done. I was so wrong because they finished in under 6 hours.
That is the best cleaning service provider I have ever used in West London. They are flexible and even allow one to reschedule even at the last minute. And they don't charge! Highly recommend if you need a cleaning service.