End of Tenancy Cleaning
Our End of tenancy cleaning Services Aim to Save you Time, Money and Hassle in the Moving Process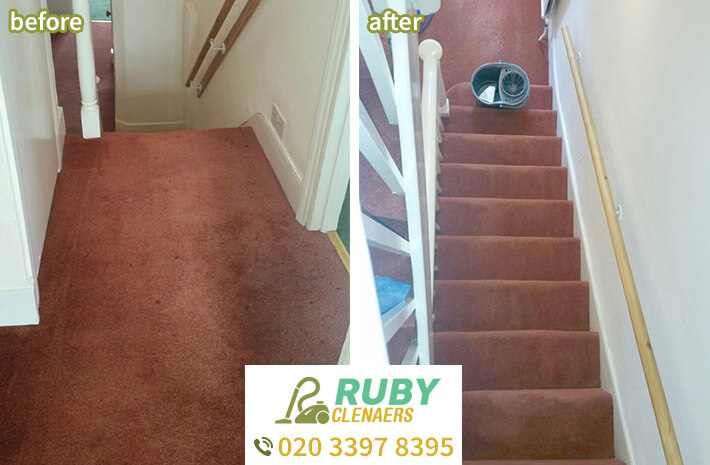 When you are in the middle of relocating and require a professional cleaning company to deal with the task of taking on and successfully completing your end of tenancy clean for you if you want to ensure that the job gets done to the highest standards possible. By calling our team on 020 3397 8395 today, you can look forward to knowing that you are safe to get on with your other more important jobs instead of having to bear the hassle of not knowing whether or not you will be able to complete a good enough job of your necessary cleaning responsibilities prior to departing the property. It can be difficult to undertake your own end of tenancy cleaning needs yourself, especially when you have so many other things to be thinking about when you are in the process of relocating and this is why hiring our expert and highly seasoned team of cleaners is the best way to make sure that your property gets cleaned thoroughly prior to your relocation. At Ruby Cleaners we have the experience, knowledge and highly professional and reliable team of workers all of which work simultaneously and rather well together to make sure that the job gets done to the standards that they should be and to the standards that can normally only be managed by the professionals. When you are in the midst of relocating there are so many things that need to be done, most of which can only be sorted and completed by you so when there is a job such as the cleaning that a third and more professional party can do for you then be sure to take advantage of this highly practical, convenient and beneficial offer before you miss out on a great deal! Give us a call at any time you like on 020 3397 8395 and request a free quote, book your end of lease clean now or speak to a member of our personnel for more information.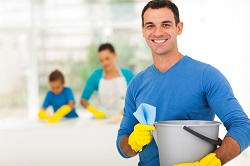 When you make the right decision to have our responsible and thorough team of cleaners come to clean for you, we will make sure that every area of the property is sufficiently seen to and that no patch or corner is missed out on. Unlike other cleaning services, our end of tenancy cleaning services are even more thorough than any other surface that we offer and take far longe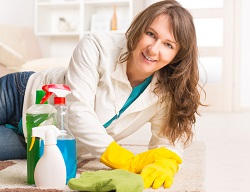 r than our other more standard type of cleaning services that our clients may use on a more regular basis. The idea behind our end of lease cleaning services is that the new owner or tenant will be able to move in to the property after we have completed our thorough cleaning of your current property without feeling that signs of the former resident's presence is still there in the property. This in other words means that we will make sure that any stains in your upholsteries, any lingering odours or marks on the wall will all be successfully removed in our one, very thorough and professional move out clean.

You can hire the professional end of tenancy cleaning services of our company Ruby Cleaners at any time you like by calling 020 3397 8395 and speaking to our friendly team of office staff. If you are relying on our cleaning services being completed to a professional level in order to get your rental bond back from your landlord or landlady then you can be sure that our services can guarantee that your bond is safely returned to you!


Our Testimonials
Their end of tenancy cleaning service is absolutely outstanding. This cleaning service lives up to its well-earned reputation.
I was using a different cleaning company for end of tenancy but heard that these guys had lower prices. Their cleaners are just as good too.
I hired these cleaners for an end of tenancy cleaning. The cleaners do a terrific job and cost less than most cleaning companies.
Hannah Bradley
23/07/2019
Ruby Cleaners was incredible today. They did a deep clean for my end of tenancy and the place looks stunning. Absolutely spotless. Great crew of cleaners.
My neighbour's end of tenancy cleaning was immaculate, and she mentioned that she used Ruby Cleaners cleaners. They are obviously quite good at what they do and are more affordable than many of the other cleaning companies.
I could not be more happy with their cleaning team. They did an amazing job for an end of tenancy cleaning. It looks incredible, and I would absolutely recommend.
The cleaning companies can sometimes get a bit pricey, but these guys always have low rates, and their cleaners are top-notch. Hire them if you want an excellent end of tenancy cleaning.
If you are looking for a high-quality end of tenancy cleaning service in London; Ruby Cleaners not only has the best rates, but their cleaners are also good at what they do. A really terrific cleaning company.
That is a terrific end of tenancy cleaning service. They did an amazing job with the carpet cleaning at the rental before I leave. It looks great.
There was a large stain in the centre of the living room carpet. I hired Ruby Cleaners cleaners for their low priced, the best carpet cleaning services. I'm so glad I found them, just in time for my end of tenancy.